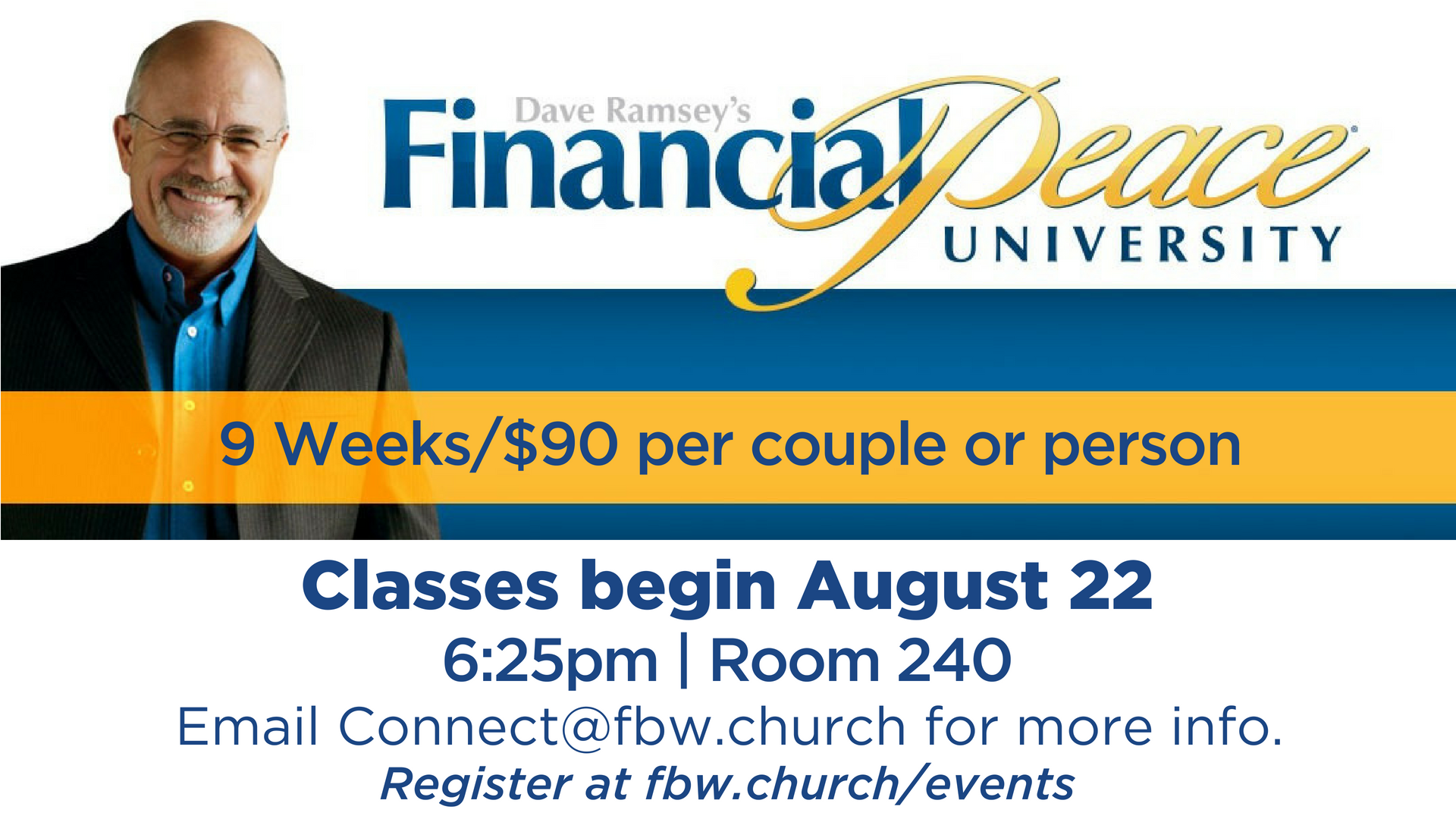 Financial Peace University
August 22nd - October 17th, 2018
$90
Never Worry About Money Again
Financial Peace University will help you take control of your money, plan for your future, and transform your life.
Due to the nature of this program, registration will end and this will become a closed group as of 9/5/18.
If childcare is needed for this class, please copy and paste this link into your browser: https://onrealm.org/fbw/PublicRegistrations/Event?linkString=NWM2MTYzYWEtNzY2Ny00NzE4LWJkMmQtYTkxNDAwZDUxZjAz
STEPS
August 22nd - May 22nd, 2019
$15
This 13-session discipleship program takes people to the root of sin and suffering in order to embrace the freedom found only in Christ's redemption. Potentially life-changing experiences are brought about by in-depth Bible study, thorough personal assessments, insightful teaching videos, and honest interactions with a group leader and mentor.
Due to the nature of this program, registration will end and this will become a closed group as of 9/5/18.
Childcare is available by copying and pasting this link into your browser:
https://onrealm.org/fbw/PublicRegistrations/Event?linkString=NWM2MTYzYWEtNzY2Ny00NzE4LWJkMmQtYTkxNDAwZDUxZjAz
Job: A Story of Unlikely Joy
August 22nd, 2018
$14
Joy is the constant companion of the woman who trusts in the Lord. And while you can find it in friends, family, and circumstances, unfailing, persistent joy will only ever overflow from your relationship with Jesus.
In this 7-session study, discover the redemptive facet of Job's suffering. Learn to view pain as a way to strengthen your faith, point others to the gospel, and trust in the Lord. Because His providence will never take you to a place where His grace will not sustain you.
Holy Yoga
August 25th, 2018
We live in a beautiful, diverse world with evidence of our God's creativity all around us. It's also a world filled with pain, suffering, injustice and oppression, and there is a deep aching for redemption. As we anticipate the day the Lord will come and set all things right, we also believe He is inviting us to enter into the work He is doing right here and right now.
Connect Night
August 26th, 2018
Come and learn about all of the growth groups and home groups at FBW.
Childcare is available but you must register. Copy and paste this link into your browser to register for childcare: https://onrealm.org/fbw/PublicRegistrations/Event?linkString=Zjc3Mzc2Y2MtNGFjZi00MjY0LTg0YjUtYTkxZjAwZjA2YzVi
Jr. High RETREAT 18
September 1st - September 3rd, 2018
$79
JR High Back to School Retreat
September 1-3rd at Sabine Creek Ranch -
Check in inside the EC at 10am on the 1st and return to FBW at 11am on the 3rd.
Games, Swimming, Bible Study
What to Bring: twin bed sheets or sleeping bag, deodorant, towels, appropriate clothing (summer camp attire), one piece or tankini top swimsuits (girls), money for snacks and souvenirs, Bible, notepad, pen
Registration & Medical Release Form Required - pick one up at guest services or in growth group.
Patriarchs's Women's Bible Study
September 11th, 2018
$16
Discover God's pursuit of relationship and the unfolding of His earthly plan: How through one nation–and ultimately one man–all people on earth will be blessed. The Patriarchs is a journey through Genesis 12-50. Explore concepts such as blessing, covenant, and promise, and the bearing each has on a New Testament believer's life today. - This study will also serve as a time of fellowship and socialization. The focus will be on building relationships while also learning more about the Bible.
COLLIDE LIFEWAY GIRLS CONFERENCE
September 21st - September 22nd, 2018
$75
This two-day conference is designed to point girls and their leaders toward a growing relationship with Christ. It's geared for middle and high school girls, as well as growth group leaders, and moms. You'll find a variety of breakout tracks specific to girls and women just like you! Throughout the weekend, you'll hear from our platform speaker Marian Jordan Ellis and worship leader Jourdan Johnson during general sessions. You will also have the opportunity to take part in interactive experiences that relate to the conference theme, as well as some late-night fun on Friday!
Conference Theme: Set Free
But now, since you have been set free from sin and have become enslaved to God, you have your fruit, which results in sanctification—and the outcome is eternal life! Romans 6:22
Man Church
September 30th, 2018
$10
Americans now agree that the #1 societal issue we face is children being raised in single parent homes. 80% of boys raised by a Mom only in the inner city will create a major societal problem before age 30, says Dr. James Dobson (Focus on the family). Where is the church in this issue? In the book of James we are told the "pure religion is this: to visit the orphans and widows in their distress ..." the modern day orphan is the child from a single parent home. Dr. Dobson also said, "if good men will spend 4- 5 hours, a few times a year with fatherless boys this will have a profoundly positive affect on them." The ministry of (REAL) PALs was designed by Joe Perry to help these boys - over 300 boys have participated in multiple events with PALs in an effort to help them realize that the church cares and that there are men who believe in them. The program stresses the responsibilities of manhood that these boys need to know. in a fun adventurous environment of outdoor events.
Join us on September 30 for Man Church and listen to guest speaker Joe Perry talk about his ministry: PALS, a ministry geared towards helping turn fatherless sons into men.
***FREE LTC(License to Carry) CLASS***
October 20th, 2018
*Online Registration for this class CLOSES 10/17/18 at 5pm.
To register in person you must be present at 7am on Saturday 10/20 for walk up registration.
This registration page contains LTC Classroom portion only at First Baptist Wylie located at 100 N. 1st St, Wylie, TX 75098 on October 20, 2018.
For more information regarding the class, please visit our website.
www.ChurchGunTraining.com
God bless!
FBW
Grief Share - Surviving the Holidays
November 13th, 2018
A Surviving the Holidays event lasts for about two hours. You'll be welcomed by warm, caring people who understand what you are going through and who want to help. During the seminar, you will:
1 Watch a 40-minute video, filled with practical holiday survival tips and the real-life stories of people who have navigated the season after their loved one's death.
2 Hear other seminar attendees explain how they are dealing with the holidays.
3 Have the opportunity to share how grief is affecting you. (No pressure—this is optional. We want you to feel comfortable.)
4 Receive a personal copy of the GriefShare Holiday Survival Guide.